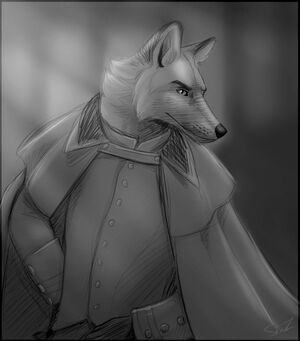 Colonel Raeden Marcellus Drear is a dark-furred fox from Mesmeros, and a proud agent of M.A.U.L. who loves what he does.
He came from a merchant ship, where he had lived concealed for three weeks living off food stolen from the brig, collecting coin. When he finally decided to jump ship he had no idea where he was, or what was waiting for him. Buying his way into citizenship he secured a place aboard the Golden Hide, a few days after the happenings of the Maelstrom War. He had seen the battles, even joining in a few of them on the side of the Imperium. He had seen the ugly face of Anarchy, and he had seen the dark inner workings of Evil. When asked about those dark days he would probably describe them as rather bland, though occasionally entertaining. 
Now a Navy sailor and an occasional thief and killer-for-hire, the fox known as 'The Colonel' for personal reasons has his eyes on the big times surely ahead.  
Power and wealth shall be his. 
Colonel Drear never fails to achieve victory. No matter the consequences. 
Military Accomplishments
Edit
Drear had once been a Colonel in the Army of Mesmeros, a coastal kingdom located just south of the Land of Ice and Snow. 
He seems unable to let go of this particular part of his past, hence why he prefers to be known by his old title rather than his actual name. 
There are many highlights in his past military career that he's particularly fond of, including:
The Colonel ended up being arrested for war crimes against several nations (as well as attempting to depose the King of Mesmeros, Bejan Turrovich, but escaped just as the Fort Ulrich watchbeasts arrived at his door, fleeing on the next ship out of Mesmeros. That proved to be the ship that brought him to the Imperium. 
Ad blocker interference detected!
Wikia is a free-to-use site that makes money from advertising. We have a modified experience for viewers using ad blockers

Wikia is not accessible if you've made further modifications. Remove the custom ad blocker rule(s) and the page will load as expected.