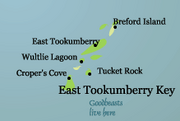 East Tookumberry is the capital and trading center of the
East Tookumberry Key
, and is also the Key's largest island. East Tookumberry is the seat of a socialist utopia populated by goodbeasts - that is to say, the rare and unusual non-vermin. The
Imperium
provides the islands miliatry protection in exchange for exlcusive trading rights. It imports berries, grapes, dyes, luxuries, timber and fish. It does not need many fish, but the Tookumberry citizens are partial to species which don't live in their waters.
It is much warmer than other places in the Imperium, despite it's close proximity to colder currents. Due to its balmy climate and generally eye-catching scenerey, the island finds itself home to a particular breed of snobbish beasts. And a lot of them, too. As long as they're willing to go along with the socialist culture, they're welcome to live here. Unfortunately, because it's such a nice island, it suffers from overpopulation, and the locals are slowly but surely running out of room to expand without damaging the lovely flora and fauna. It is getting rather stressful to manage, especially considering the socialist philosophy.
Still, it is a destination if you like to go and look at pretty things. Many beasts go just for the location and avoid the locals. It really is a nice place to visit, but you wouldn't want to live there.