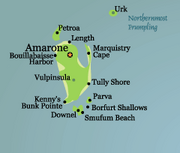 Vulpinsula and its surrounding islands, which lie in the Sea of Calamities, are all that remain of the Beastiolia island chain, which was sunk by some untold disaster ages ago. It is probably the most important place in all the Imperium, as Vulpinsula is the seat of Imperial power and the primary center of trade. All flagships of the Imperial Navy make berth here in Bouillabaisse Harbor, or
Bully Harbour
.
On the isle of Vulpinsula itself you will find the towns of Amarone, Bully Harbour, Length, Maquistry Cape, Tully Shore, and Kenny's Bunk Pointe.
Surrounding Vulpinsula are many small islands, which are as follows: Urk, Petroa, Parva and the Borfurt Shallows which connect it to Downel, and Smufum Beach .
Pages in category "Vulpinsula"
Ad blocker interference detected!
Wikia is a free-to-use site that makes money from advertising. We have a modified experience for viewers using ad blockers

Wikia is not accessible if you've made further modifications. Remove the custom ad blocker rule(s) and the page will load as expected.